COVID-19 Information Hotline
For more information regarding Quarantine / International Travel arrangements / COVID19 :
Please Call :
✆ 603-88810200600 / 03-88810200700
✆ 6085-322085 (Miri)
Historical Inaccuracy Everywhere
Primary tabs
admin
-
Mon, 06/18/2018 - 12:31
It is with great disappointment to see that the local populace having a pretty poor sense of historical accuracy, so much so that even in 'official' booklets and newspaper constantly having wildly wrong photos and wrong information being posted over and over again as fact. Well I don't claim to be 100% accurate, as the accounts on these pages are from memories of people, or resources that are readily available but I do try to cross reference from other sources to pinpoint to as accurate an information as possible - or if there are multiple conflicting stories they will all be recorded, take what information given and decide for yourself. Here are some examples that I have come across that have gotten it completely wrong, which could have easily been checked for accuracy.
1
...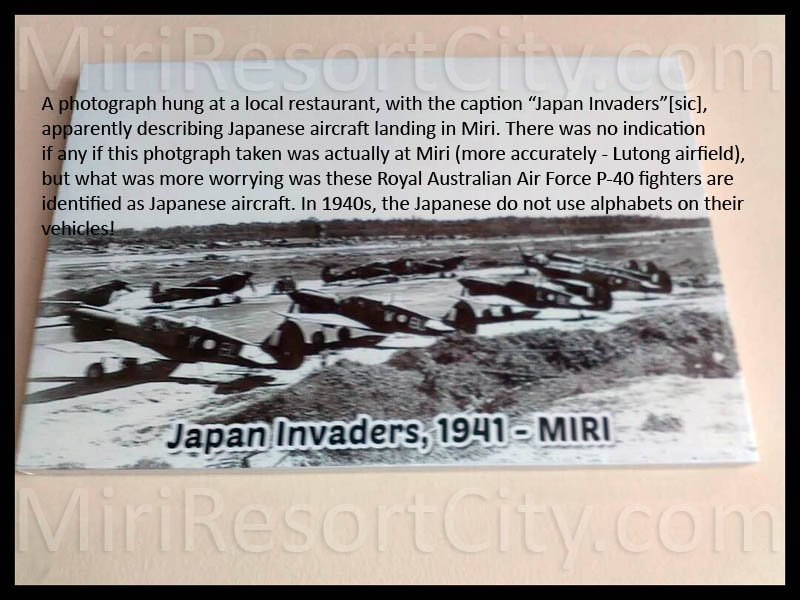 Those planes are Royal Australian Air Force P-40 aircraft, apparently in Miri. Unable to check if that picture is actually located at the Lutong Airfield during that time. A quick check online will see that the RAAF did have P-40s in operation in the Borneo campaign in 1945.
2
Taken from the booklet "Miri Then and Now", they have decided to copy the articles from MiriResortCity and then even list the source, but failed to get the correct pictures. I'm sorry, but this is really not excusable.
3
Taken from the chinese newspaper See Hua Daily, the article attempts to describe the Lutong airfield... while posting a picture of the old Miri Airport. They also have the image mirrored. Read about the real 1970s airport
here
. Read about Lutong Airstrip
here
.