Miri Handicraft Center
Primary tabs
admin

- Wed, 07/08/2015 - 17:15
UPDATE  2016 - Handicraft Center Moved
The Handicraft Center stalls and its cafe have all been moved to High Street in the Old Town area temporarily while the old building was being renovated. Map just below reflects new, temporary location.
Miri Handicraft Center is situated at Raja Road. This center has various traditional handicrafts and pottery on display and for sale at the center and is a showcase of ethnic arts and crafts of northern Sarawak. Stalls are run by individual producers and craftspeople. Artwork such as paintings are also its main attraction. Visitors are welcome to know more about our local cultures and browse through the many hand-made crafts & souvenirs home. Cultural performances are occasionally held.
Waving & Basketry
Palm, rattan, tree barks, bamboo and various other plants gathered from the forests are woven into works of art by the many tribal community here. The Bidayuh are famous for their 'kesah' mats, stoutly woven from rattan and beaten tree bark while the Melanaus and Malays are well known for using the leaves of sago, pendanus and palms to make intricately plaited baskets, colorful mats, hats and home decorative items. And, the Ibans weave intricate arrowroot patterned mats which show up only in oblique light.
Pua Kumbu
Iban women are among the finest weavers of the Pua Kumbu, a textile twisted or 'ikat', tie-dyed and skilfully woven on the backstrap loom. The technique is passed from generation to generation with many of the designs/patterns weaved from memory. An experienced weaver will need an inspirational dream to create a new design.
Pottery
Family run pottery kilns produce beautiful and uniquely handcrafted decorative and functional earthenware.
Beadworks
The Orang Ulu ladies are the artisans of this fine craft. In their possession are antique necklaces, headgears and baby carriers which include rare beads from China, Venice and the Middle East, pointing to a trading culture that goes back centuries ago. Whilst having used these ancient beads for trading in the early days, this ancient art is experiencing a revival and now they make ceramic beads for their traditional costumes and for trading.
Photos:

#mirihandicraftcentre
These may also interest you ▾
admin

- Wed, 05/24/2017 - 09:29
Miri River is the body of water that splits Miri Peninsula and the mainland Miri, flowing out to sea from inland, curving at Lutong Town.
The Piasau Bridge and Miri River Bridge crosses over the Miri River into the peninsula near what was formerly Piasau Camp, now known as the Piasau Nature Reserve. The Lutong bridge crosses the river at the curve of the river at Lutong. This article is from the web site miriresortcity dot com, this sentence is here to prevent plagiarism. The Miri Ferry operates between the Miri Peninsula and Miri town as a third river crossing point at the tip of the peninsula, where the river flows out to sea.
In the 1960s up until 1980s, ports were located along the river, from Miri old town reaching to the point just before Piasau Bridge. The port locations made for ease of offloading smaller cargo, and so this made the Miri town and Krokop riversides common areas for businesses utilizing these ports, such as shipbuilders, shipping / forwarding agencies, car dealerships, and many more. The river was still shallow especially in times of low tide however, and so mostly barges and shallow vessels are able to sail up river to these locations. The river was also used to float timber from inland areas. As a result, the river was heavily polluted during this era, and many, many river cleanup projects - private, government, and voluntary were done in an attempt to reduce pollution in the past.
The river also saw several dredging projects over the past few decades to deepen it.
Post year 2000, the river mouth had been relocated to make way for the marina, changing the river mouth landscape significantly.
In one particularly popular but inaccurate online map service, the river is incorrectly marked as Baong River, causing quite a lot of confusion. There are also other references online that have confused it with Baram River.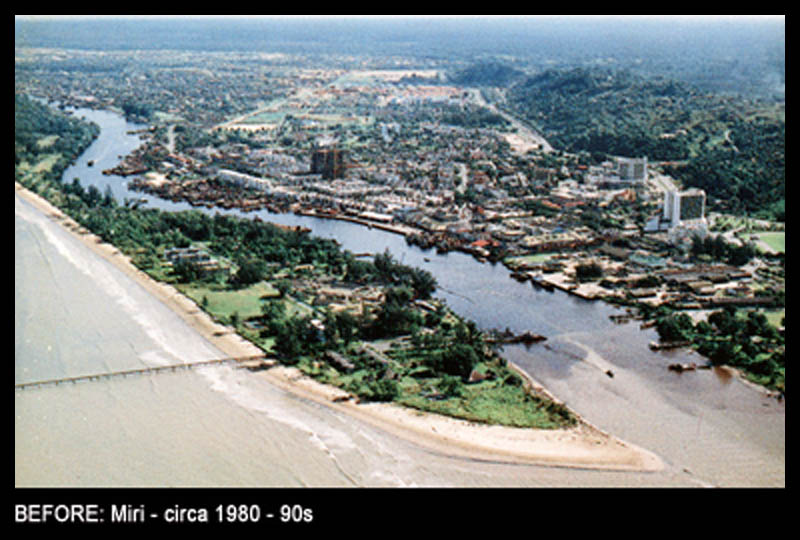 admin

- Tue, 08/11/2015 - 14:03
Limbang is a town in between the borders of Brunei. To get to Limbang by road, one has to go through Brunei immigration.
#limbangsarawak