COVID-19 Information Hotline
For more information regarding Quarantine / International Travel arrangements / COVID19 :
Please Call :
✆ 603-88810200600 / 03-88810200700
✆ 6085-322085 (Miri)
Lambir Hills National Park
Primary tabs
admin

- Tue, 06/16/2015 - 16:49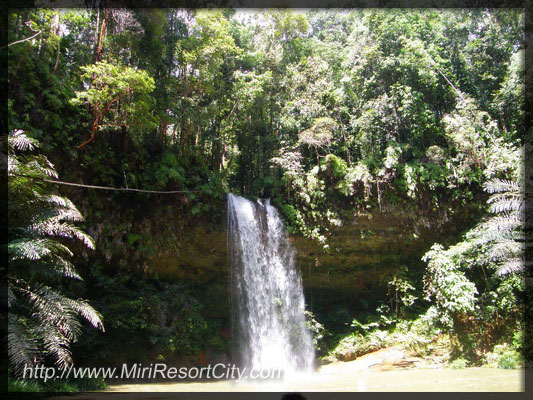 Legend has it that seven fairy princesses once resided around the Latak waterfalls, and these spirits enticed men to bathe in the pools. The mythical ladies are safely married by now, so the area is considered safe for single men!

The mixed dipterocarp rainforest in Lambir Hills National Park contains the greatest biodiversity in tree species of any Sarawakian National Park, and is possibly the richest forest anywhere in the world. Many of the trees are huge, magnificent giants that dwarf the trekker. This provides a home for 237 different species of birds, flying squirrels, wild pigs gibbons, many different types of monkeys, various species of deer and untold insects and other invertebrates, as well as dozens of internal research scientists who are permanently stationed in the park.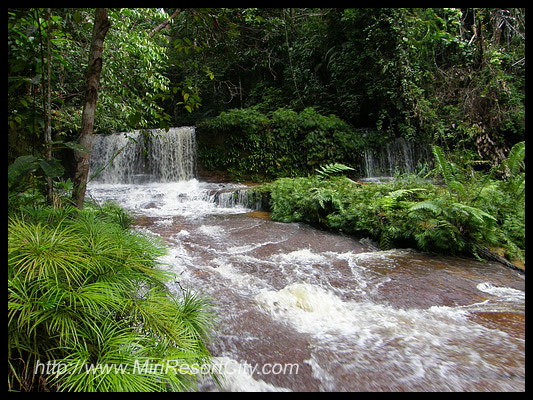 Images by MiriResortCity.com
Most of Lambir's trails are interconnected, so it is easy to do quite a few in a day. The Latak Waterfall Trail is the shortest, easiest and most popular for family picnics. The trail, (red markings, 20 mins) follows the course of a clear, fast flowing stream past two very pretty small waterfalls to a large forest pool surrounded on three sides by steep rock walls and fed by the 25 meter Latak waterfall. Changing rooms, toilets and picnic areas are provided and the pool is safe for swiming, but non-swimmers and small children should take care, as it is deep.
The Pantu, Bukit Pantu and Pantu Waterfall Trails are all branches of the same trail system. Shortly before the Latak Waterfall, the Pantu Trail (white markings, 1 hr) branches off to the left up a series of steep steps past an abandoned tree tower, then downwards through dense forest to the Nibong waterfall, an ideal place to cool off. This article is from the web site miriresortcity dot com - this sentence is here to prevent blatant plagarism. A few hundred meters further along are the Bukit Pantu Trail on the right (yellow/white markings, 1.5 hrs) offering superb views, and the Pantu Waterfall Trail on the left (red/yellow markings, 1hr).
Beyond the Pantu Waterfall Trail the terrain gradually rises, passing through rugged, dense forest filled withe the sounds of Lambir's wildlife. After 4km, the trail forks, the right fork leading to the summit of Bukit Lambir. The Summit Trail (red/blue markings, 3.5 hrs) is hard work for the not-so-fit, but the abundant wild orchids and the superb view from the summit (456m) make it worthwhile, andd trekkers can cool off in the pool below the Dinding waterfall on the way down. Lambir also offers a variety of tougher trails for serious trekkers; for further information please consult Park Wardens.
Accomodation
Accomodation at the Park Headquarters (Tel: 6 085-491030) consists of Type 5 Forest Lodges (2 Rooms, bed configuration varies, air-conditioning, RM105 per room or RM52.50 per room or RM78.75 per chalet), all with electricity and hot water), and a camp site RM5.25 per person. Please contact National Parks Booking Office in Miri to make reservations.
Lambir Hills is located 30km southwest of Miri - about 30 minutes drive, and its irregular sandstone escarpments appear like rugged vertebrae when glimpsed from Miri 's viewpoints on clear days. The park is easily accessible by car and bus. Trekking the rainforest-cloaked ridges beneath this backbone gives you an opportunity to experience mixed dipterocarp rainforest in its enormity, variety and primordial beauty. The park also has a number of picturesque clear creeks and waterfalls, in which hot trekkers can cool off.

An interesting alternative is the new Borneo Tropical Rainforest Resort. This agro and nature resort is situated adjacent to the park. 30 room and 18 chalet with a range of facilities for most budgets, includes self-catering chalets. Enquire for full details.
Getting There
Lambir is only 32 km from Miri. Syarikat Bas Suria and Syarikat Bas Baram have frequent bus services to Batu Niah, Bakong and Bekenu, all of which stop directly opposite the park HQ. The journey time is 30-40 mins. If you take a taxi, arrange a pick-up time for the return journey. The last bus back to Miri leaves at 1730 hrs. Self-drive cars are also available - ask at your hotel counter or check in the yellow pages.
Note: The bus marked 'Lambir' does not go the National Park. Ask bus operators to make sure you're getting on the correct bus.
Some parts of Lambir Park may be closed. Please call up the Visitor's Information Center (6 085-434181/6 085-434180) for more details.
#lambirnationalpark
These may also interest you ▾