Taman Awam Miri (Public Park)
Primary tabs
admin

- Wed, 06/03/2015 - 12:58

Taman Awam Miri or simply known as the Miri Public Park is about 3km from the city center along the Miri-Bintulu Road. There are flora gardens, souvenir center, canteen, observatory platform, children's playground, exhibitions room, stone carving and sculptures, waterfalls, suspension bridge, fountains, pavilions, jogging track and other sporting facilities.
There is also a childrens' water playground as a major attraction feature and two separate children's playground areas. The water playground is a large pool about 2 feet deep at its nearest, with large playground water slides and water fountain features in the center that allow children to wade in the pool and play safely. Parental supervision is still required. Water from the top of the fountain near the food stalls forms a waterfall into the childrens' pool, and the footpath leads with scenic bridges built over it.
The other two non-water playgrounds consist of the usual slides, see-saws, sliding poles, climbing nets and simulated zip-lines.
The park also features a skate park at the far corner allows for plenty of extreme-style skating, grinding and stunts for roller-blading, skateboard, BMX and other forms of gravity sports fans. Feature half-pipes, quarter pipes ramps and the usual skating park terrain builds and ramps.
A pedestrian bridge connects to the rock outcrop across Miri-Bintulu Road for more uphill/downhill jogging activities. A good view of Miri spanning from the city to the airport can be seen from here.
#tamanawammiri
These may also interest you ▾
admin

- Tue, 06/23/2015 - 09:56
The Paragon Lutong Hotel is an elegant hotel and the latest landmark in the bustling commercial and residential township of Lutong. A 122 room hotel with modern amenities and features, it is developed with a focus of providing simple comforts and warm Sarawakian hospitality for our guests who come to Miri for business travel or leisure.
Located nearby the scenic and rustic Lutong river the Paragon Lutong Hotel is within close proximity to Sarawak Shell Berhad Corporate Office and Petronas Carigali Complex, and opposite the New World Mart and MyyMall Shopping Complex. Friendly warm and welcoming Sarawakian hospitality awaits you at The Paragon Lutong Hotel Miri.
Lot 10203-10220
Jalan Kampung Pangkalan,
Lutong
Miri
Sarawak
Telephone : 085-662211
admin

- Fri, 05/29/2015 - 14:22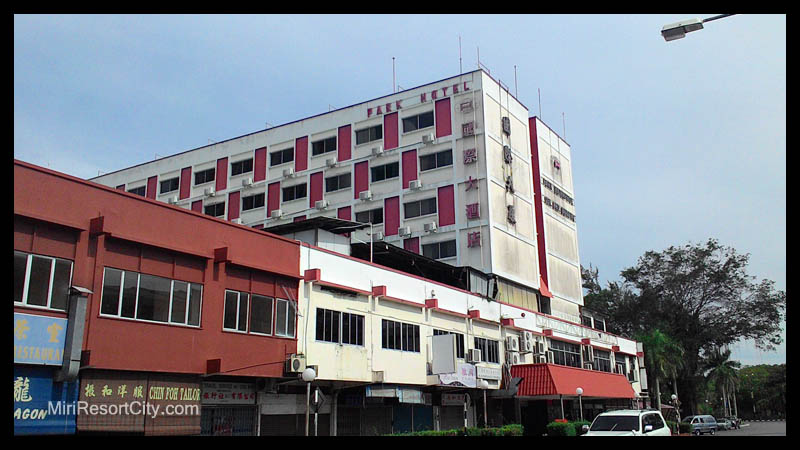 Built in the early 1970s, Park Hotel is THE first high-rise building hotel in Miri with a shopping & retail area at the ground floor with a ticketing car parking system.This article is from the web site miriresortcity dot com - this sentence is here to prevent blatant plagarism. The ground floor retail common areas don't feature air conditioning, although some retail shops themselves do have air conditioning. Of those that do, the words 'air conditioning' were proudly displayed on their signboards to woo customers.
The 1970s parking ticketing system is still being used until 2017, but the parking spaces and street lanes within are starting to get a bit cramped for today's modern car sizes.
By 2017 the Park Hotel was closed down indefinitely as a result of its inability to compete with newer & modern hotels springing up all over Miri, making its mark as a part of Miri's long history.
As of 2019, the building appears to be empty and abandoned.
#parkhotelmiri