Choon Cheong Departmental Store
Primary tabs
admin

- Mon, 08/17/2015 - 08:48

Choon Cheong Departmental Store was a two-story family-run supermarket/departmental store contained within its own building first opened in the late 1980s, a precursor to the 'hypermarket' of Miri today, and one of the first of its kind. Located just in front of the Krokop 10 Bazaar, Choon Cheong Departmental Store was garnering shoppers not only from nearby Krokop & Piasau areas, but even shoppers from farther ends of Miri, including Brunei, in its heyday.
Internal problems arised with the owners of Choon Cheong and, combined with waning traffic and competition from newer malls and shopping choices, the departmental store was eventually closed. The building sat empty for a while before it was renovated into a furniture shop - and today after another change of hands, the building is known as BH Mart.

A shot of the same building in 2015.
These may also interest you ▾
admin

- Tue, 09/01/2015 - 11:55
Manok Pansoh is an Iban delicacy, which is chicken in bamboo. Preparations for the dish are having cut chicken pieces, mushroom, lemongrass and tapioca leaves wrapped and bundled together in a tube, which are then stuffed into bamboo shafts and sat over an open fire to roast.
This results in a flavour sealed into the food is a succulent, juicy and tender chicken with gravy, and a hint of lemongrass and bamboo.
This Iban dish can be found at longhouses and during longhouse visit arrangements, although there are some restaurants or markets in the city that sell them. Ask around for the best places.
#manokpansoh
admin

- Sun, 01/24/2016 - 10:52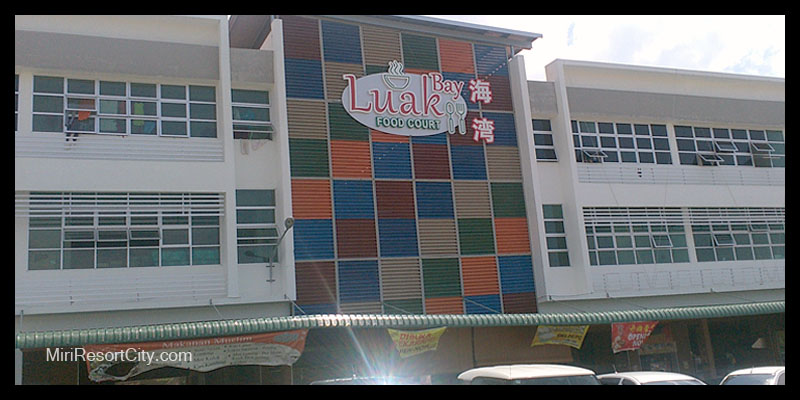 Luak Bay Food Court is a food court that opened in 2015 alongside Luak Bay Road just off the Miri-Airport Road 'Seahorse' roundabout. The food court is located in between two shop houses and features muslim & other local foods and drinks, and has seating for about 50 tables.
The usual menu assortment of Laksa, Kolo Mee, Kueh Tiaw, and other lunch / breakfast sets can be ordered from a wide selection of stalls within.
#luakbayfoodcourtmiri