Kingwood Boutique Hotel
Primary tabs
admin

- Thu, 09/24/2015 - 10:32
Founded in 1986 as Rinwood Inn, the hotel had humbling beginnings as a two-lot shophouse converted into a comfortable living space to house foreign business clientele. In 2014, the hotel underwent extension renovations and redesign with a design theme featuring retro 1970s-era elements.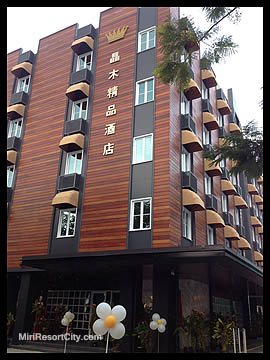 Kingwood Boutique Hotel is a distinctive hotel located alongside the famous corridor along North Yu Seng Road. Recently renovated and redesigned extensively to, the hotel reopened its doors on 23rd September 2015. It features 49 designer rooms, a lobby cafe and restaurant, with a rooftop bar that boasts a sprawling view of North Yu Seng Road and Miri.
Its design theme reflects vintage style-era sophistication with a modern twist - all guest rooms are outfitted with vintage 1970s era furniture retro designs. 5 types of guest rooms, studio-style, deluxe private rooms, suites & parlour areas and a Crown Loft to suit the different styles and budgets. All rooms come with complimentary wifi, morning paper, in-room safes, climate control and spa inspired bath amenities.
Major shopping malls, banks, convenience stores, bars and restaurants are within walking distance.
Web site: https://kingwoodmiri.com.my/
Kingwood Boutique Hotel (Miri) Sdn. Bhd. (147317-D)
Lot 826, Jalan Yu Seng Utara, P. O. Box 1838, 98008 Miri, Sarawak.
(+6) 085 415888
(+6) 085 320888
Enquiries: hello@kingwoodmiri.com.my
 
#kingwoodhotelmiri
These may also interest you ▾
admin

- Fri, 05/29/2015 - 12:39
See also : Mulu National Park
Mulu Marriott Resort & Spa (Previously Royal Mulu Resort)
Designed in the style of exotic ethnic longhouses, Mulu Marriott Resort & Spa was built on wooden stilts above the ground and linked by wooden walkways, the Resort stands on the banks of the Melinau River, in the midst of a breathtaking natural splendor in exotic Sarawak, Borneo.
Mulu Marriott Resort & Spa is an international class nature and activities destination, offering the best combination of resort activities, nature and comfort. The Resort is located near the Gunung Mulu National Park, home of lush exotic rain forest and some of the most amazing cave systems in the world.
The resort has 188 designed rooms consisting of deluxe, executive suite crown suite and royal suite all of which have rich parquet floorings, mini bar, individually controlled air-conditioning standard ammenities and hot showers. The resort has its own water treatment plant, which supplies all guest rooms with clean and safe water. All staff at the Royal Mulu Resort are constantly traine with updated first Aid procedures and for cases requiring medical attention, a clinic from a nearby village is always available.
The Wildflower Restaurant is open from 7am to 11pm, and combines the best of Local, Chinese and Western Cuisine.
The Splash Bar located outside of the Wildflower Restaurant, is open everyday offering coconut juice, cocktails, local juices and even 'tuak', the local rice wine.
Activities for the visitors include:
○ Adventure Caving
○ Board Rafting
○ Night Cruise
○ Four Show Caves
○ Nature Walk
○ Boating
○ Archery
○ Mountain Biking
○ Kayaking
○ Rock Climbing
○ Adventure Tours
○ ATV Mulu Tour
Phone: +60-85-792388
Fax: +60-85-792399
Sales: +60-85-421121
#royalmuluresort
admin

- Tue, 06/23/2015 - 17:23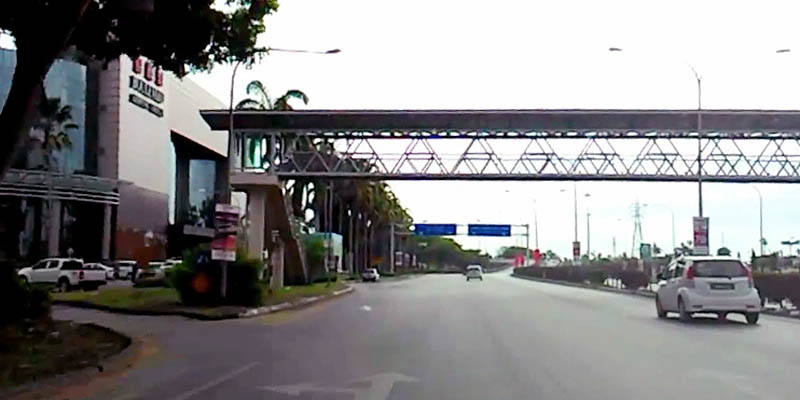 Boulevard Pedestrian Bridge is a pedestrian bridge that runs over the Miri-Pujut Road in front of Boulevard Commercial Center, just before the Miri-Pujut Flyover.
After a spike in accidents involving pedestrians and vehicles around that area, the bridge was finally proposed and built.
Design blunders - Oddly enough, there are only one set of stair cases on each side and one side is pointed away from the residential areas. The bridge section is roofed to protect pedestrians from rain and sun, but the stairs are not.
Controversy : At a cost of about 1 million Ringgit each these bridges raised some eyebrows considering that what you can get for buying a 500k house AND fully furnish it with change.
#pedestrianbridgemiri