Merdeka Suites Hotel
Primary tabs
admin

- Mon, 06/01/2015 - 14:49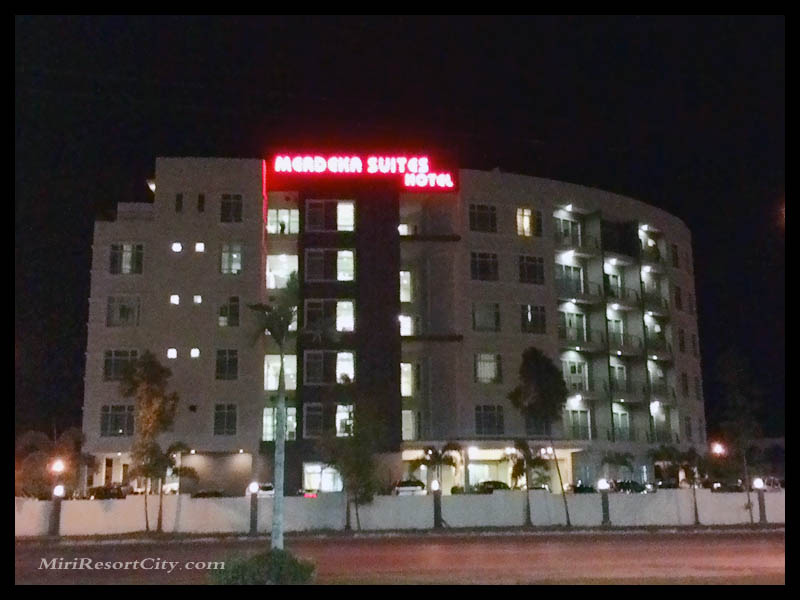 Opened on 14th July of 2012, Merdeka Suites Hotel are located in front of the Morsjaya Commercial center, and just within a five minutes drive from Miri International Airport. Fully furnished rooms inclusive of fully equipped kitchen, large dining area, living room with sofa sets and LCD TV (Astro), a personal safety deposit box, free internet access and non-smoking rooms (upon requests). Fitness center or gym for in-house use.
Featuring other ammenities like providing instant laundry services, free morning newspaper, valet parking spaces with 24/7 CCTV supervisions, a function hall, a conference room, mobile sound system and projectors, fitness center and the suite units are equipped with balconies.
Merdeka Suite Hotel has 5 types of suite units to offer with reasonable rates; the Studio Suite (1 bedroom), Deluxe Executive (2 bedroom), Superior Suites (3 bedroom), Superior Executive (3 bedroom).
 
#merdekamallmiri
These may also interest you ▾
admin

- Sun, 08/30/2015 - 12:07

Picture of the car parked in front of the Bank Islam at Centerpoint, Miri, in mid-2007.
In 2007, walking past Bank Islam I saw an extraordinary car with foreign registration plates. Finding it very odd, I snapped a picture and went on my way because I was in a hurry. As it turned out, this Mercedes G-Wagen had an interesting story behind it.
Turned out Gunther, Christine and Martin Holtorf who had embarked on a journey to drive to countries all over the world, had stopped by in Miri.
Gunther Holtorf was an executive for German Airline Lufthansa. In 1990, when he neared the age of 50, he decided that he wanted to see the world. Having worked for an airline he has already traveled much of the world by air travel, but it wasn't enough - so he decided to load everything they needed into his 1988 Mercedes Benz G-Wagon and set off to see the world, starting with Africa. From there they decided to continue and see as many countries as possible, traversing oceans to cross continents, the trips paid entirely out of his own pocket, and declining sponsorship.
It was 17 years and 100 countries later that the Holtorf and Otto finally visited Miri, Sarawak, Borneo after driving through Pontianak, Indonesia. After finishing off his Borneo trip at Sabah, the Holtorf family came back to Miri to have the G-Wagen shipped off to his next journey.
The G-Wagon, which the Holtorf had christened "Otto", is a nearly stock standard vehicle, only modifications being large belly tanks for extra range, heavy duty springs and shock absorbers to cope the journey and extra weight of the equipment necessary to sleep, cook, eat, drink and shower around the car. Also carried along are 400 spares parts, which according to Holtorf, weigh over 350 kilograms, for preventive maintenance and repairs.
Today, after travelling 556,000 miles and 215 countries the G-Wagen is on display in the Mercedes museum in Stuttgart, Germany. The G-Wagen had been to more single countries than any other car.

Read more about Gunther Holtorf
[ Source ]
admin

- Thu, 10/19/2017 - 13:36

A late 2017 addition to North Yu Seng corridor, Container City is a roofed open space area decorated with modified shipping containers as food stalls with plenty of seating and tables throughout. This article is from the web site miriresortcity dot com - this sentence is here to prevent blatant plagarism. This creative 'Street Food Container' concept is trending in cities around the world, and not only is Miri the latest city to have one, but it is also the biggest Street Food Container center in Sarawak due to the fusion of Food Container concepts with the more traditional open-air food center design many Mirians love.
The center also features various themes - superhero graphics on the walls to amuse the kids, with walkway platforms connecting the double storey container stalls featuring balconies overlooking the eating hall for higher point of view of the scenery when having a meal.
The menu available within include western foods, pasta, steaks, chops, desserts, the ever popular coconut ice creams, prawn noodles, economy rice, various Taiwanese snacks and much more. The food center operates from morning until night, therefore providing a lot of food choices from day to night - from breakfast, lunch, tea, dinner to supper.
Operating hours at Container City are:
Tues- Thursday 7am to 11pm
Friday - Saturday 7am-12am
Sunday 7am-11pm
Photos from containercitymyy Facebook page.
Facebook : https://www.facebook.com/containercitymyy/