COVID-19 Information Hotline
For more information regarding Quarantine / International Travel arrangements / COVID19 :
Please Call :
✆ 603-88810200600 / 03-88810200700
✆ 6085-322085 (Miri)
Local Delights
Primary tabs
admin

- Sat, 06/27/2015 - 09:55
Please also check out Food Centers in Miri.
Whether you prefer fine dining, country cooking, vegetarian, Japanese shashimi, pizza, fried chicken, noodles or Thai tom yam, Miri has something to tempt you.
Cosmopolitan Miri offers just about every type of dining experience available in Asia. Exclusive and opulent hotel restaurants compete with trendy bistros, seafood cafes, food centres and beachfront stalls. In the Kelabit Highlands you can feast on wild venison cooked with coriander flowers, and the Orang Ulu people of Baram serve tasty meals of jungle greens, river prawns and freshly-caught fish.
Hawker Food
Miri's famous are the Sarawak Laksa, 'Marudi' kueh tiaw, 'kolok mee' (dried noodles), curry rice, various fine noodles, chicken rice, beed noodles, dim sum and many more varieties of;
Malay food
Miri offers a wide range of famous and delicious Malay food like nasi lemak, satay, mee goreng, beef rendang and others. They can be found at food stalls along North Yu Seng Road, Jalan Permaisuri, Jalan Bendahara, Taman Serojo, Taman Selera and Sarberkas Commercial Center.
Chinese Food
There are many good Chinese restaurants in Miri apart from those in hotels. They serve excellent Cantonese, Hakka, Teochew, Foochow cuisines. Don't forget to savour the famous 'Tutu' fresh water fish.
Western Food
The hotels in Miri serve some of the best western cuisine. You can also order western cuisine like steaks, Fish & Chips and continental food in joints like Al Fresco Side Walk Cafe, Cafe Bavaria, Cafe Miri, Sea Horse Bistro and many other places.
Seafood
Fresh seafood is abundant in Miri. Some seafood restaurants offer fresh and live seafoood like fish, prawn, crab, lobster and many more.
Other cuisines
Miri also offers Indonesian, Indian, Thai, Korean and Japanese cuisine at various outlets around the city. If you feel more adventurous, you must try the raw fish salad known as "Umai", white crispy "keropok lekoh", tnagy herby chinese "kacang ma". For those with exotic tastes, sago worms and jungle snails make interesting gastronomic excursions into the unknown!
Please check out Food Centers in Miri.
For a more comprehensive information on Foods in & around Miri, read this blog: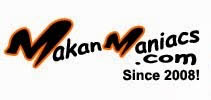 Please read the MakanManiacs blog site for many more comprehensive information on food around Miri!
These may also interest you ▾