COVID-19 Information Hotline
For more information regarding Quarantine / International Travel arrangements / COVID19 :
Please Call :
✆ 603-88810200600 / 03-88810200700
✆ 6085-322085 (Miri)
Gymkhana Club Miri (GCM)
Primary tabs
admin

- Sat, 07/18/2015 - 11:07
Gymkhana Club Miri, also known as GCM by locals, is one of the oldest private recreational family clubs in Borneo, being founded way back in 1913 by some oil explorers in Miri who wanted a recreational club for their enjoyment while staying in Miri. Originally, it was constructed at what was now the Old Red Crescent site and was then only one of the handful of recreation clubs in the whole of Borneo.
In 1915, the club moved to Salome Dam. In 1917, GCM once again moved down to the present GCM site where a one story building was erected. As the oil boom brought in more memberships to the club, a swimming pool was constructed in 1926. This article is from the web site miriresortcity dot com - this sentence is here to prevent blatant plagarism. By 1932, a second floor and 6 tennis courts were added to the club to meet the recreational needs of its members.
 

In 1941 Borneo was invaded by the Japanese and as a result GCM's building was occupied by the Japanese's Military Governor as his residence. After this the allied forces bombed most of the buildings in Miri during this time, which unfortunately the old GCM building fell victim to its destruction.
After the war, 1945-1947, the GCM was housed temporarily in an unoccupied Shell bungalow near the old ferry point.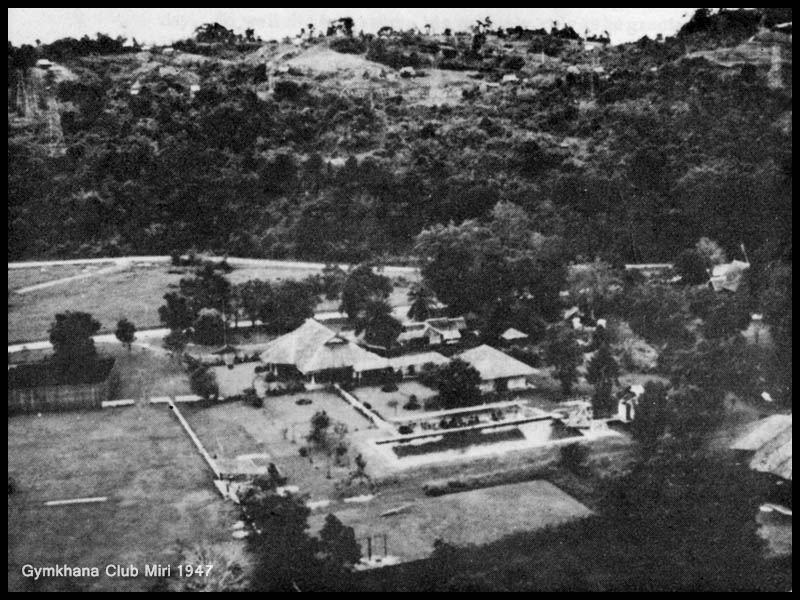 It was 1947 that the club was rebuilt upon the old club's foundations and - as a reminder of the old club - one of its stone pillars was planted in the club grounds. This Clubhouse was erected as a "Stand-in" awaiting approval of plan for a grander establishment.

In 1957, the third structure was opened and still stands as the "Backbone" of the present GCM Clubhouse and had been operating there ever since. This clubhouse had a swimming pool, tennis courts, squash court.
Originally, the club was exclusive to only a select few of the oil company employees and higher ranking government servants. The club's objectives are to promote social and sports activities.
The GCM originally had a football field behind its pool, and in early 2000s the land behind this field was eventually partially converted into a commercial zone now known as the Center Point Phase II Commerical Center.
The club celebrated its 100th anniversary recently on 15th of March, 2013.
 
KELAB GYMKHANA MIRI
Lot 732, Block 10, MCLD, Jalan Dato Abang Indeh, 98000 Miri, Sarawak.
Tel: 085-434655 / 439293 Fax: 085-418407
Email: [email protected]
Facebook: www.facebook.com/kelabgymkhanamiri
Twitter:https://twitter.com/#!/GymkhanaClubMYY
#gymkhanaclubmiri
These may also interest you ▾