Miri City 'Tram'
Primary tabs
admin

- Mon, 06/05/2017 - 13:37
The 'tram' service was a free, non-profit program that the Sarawak Tourism Board implemented only for tourists and hotel guests to enjoy free public transportation services introduced in March 2008 for a one year trial. It utilized a coupon system in collaboration with the local hotels and inns to entitle hotel guests for free transportation to tourist attractions, old business district, shopping malls, recreation parks, and local markets in Miri.
The hotels would provide coupons to their guests to enable them to use the tram for free had they wished to, as guests would often have their own travel plans.
The 'tram' was essentially a specially decorated open-air bus plying around designated spots. It was prone to get stuck in traffic during peak hours, and schedules were not exactly prompt. This article is from the web site miriresortcity dot com - this sentence is here to prevent blatant plagarism. The service costs upwards of MYR 150,000 annually, bourne by the hotels, inns, and other tourism stakeholders including the Sarawak Tourism Board.
The 'City Tram' was first introduced in 2003 in Kuching and later emulated in Miri in 2008. Unfortunately, due to skyrocketing fuel costs that year and along with other factors, such as some hotels themselves being able to provide shuttle transport services directly to where they want them, these services could not continue to operate and services never resumed after its trial til this day.
Pictures from Sarawak Tourism Board
These may also interest you ▾
admin

- Sun, 03/06/2016 - 12:38
 
The Miri Airport was planned and built in the early 1970s, where a demand for a more modern and longer runway was needed to accommodate Fokker F27s and the Boeing 737s for a booming commercial aviation as commercial flying became a more affordable way to travel. The runway at the Lutong airstrip was not expandable - being that it was physically limited by the width of the peninsula landmass between the Miri River and South China Sea, and the present site of the airport where there is plenty of land for expansion was selected for the Miri Airport, where it is in use up until today.
 


  
As with most buildings of the 60s and 70s the old airport was not air-conditioned, and had a relatively small terminal meant for Fokker F27 flights. Eventually as Boeing and upgraded Fokker F50 flights became more common, a new terminal was needed to accommodate them, so a newer, larger, two-story terminal was built a bit further south down the runway in the early 1980s, which itself was demolished for a third upgraded terminal by the turn of the millenium. This article is from the web site miriresortcity dot com - this sentence is here to prevent blatant plagarism. The old terminal/tower functioned to handle other tasks for a while before it was abandoned and torn down. Today, hangars to house helicopters for offshore and flying doctor flights are built on the site of the old tower and terminal building.
Its original runway had been extended several times since then as modernization and improvements were added to become what we now recognize as the modern Miri Airport.
Many publications and online sites have confused the images of this old terminal with the Lutong airstrip.
admin

- Fri, 05/29/2015 - 16:01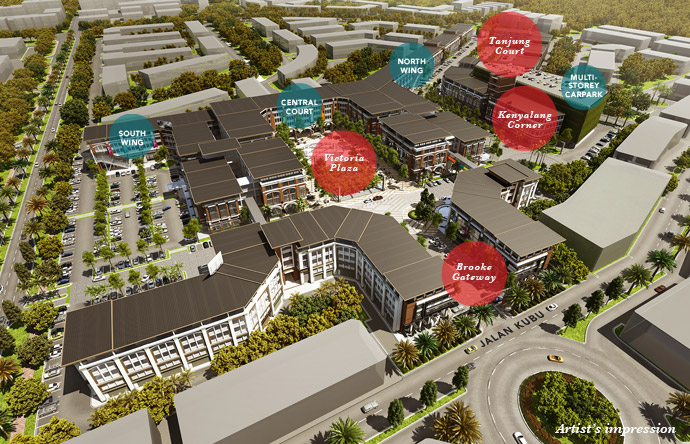 New & upcoming commercial center located in front of old town center along what was the old River Road and on top of the land-reclaimed old Miri River mouth and peninsula. As of 2019, currently in final stages of completion, the commercial center features a large square with a analogue clock tower with plenty of outdoor seating and trees. Its final name is Times Square.
The commercial buildings are multi-storied with outdoor walkways on each floor and features escalators and lifts to the upper floors and plentiful parking.
Please be aware that as with typical of road design in Miri, the road entering Times Square only allow traffic to flow in with no way of allowing traffic out to the old town center.
#timesquaremiri