COVID-19 Information Hotline
For more information regarding Quarantine / International Travel arrangements / COVID19 :
Please Call :
✆ 603-88810200600 / 03-88810200700
✆ 6085-322085 (Miri)
Colonial Cemetery (World War II Memorial Park)
Primary tabs
admin

- Tue, 08/11/2015 - 17:17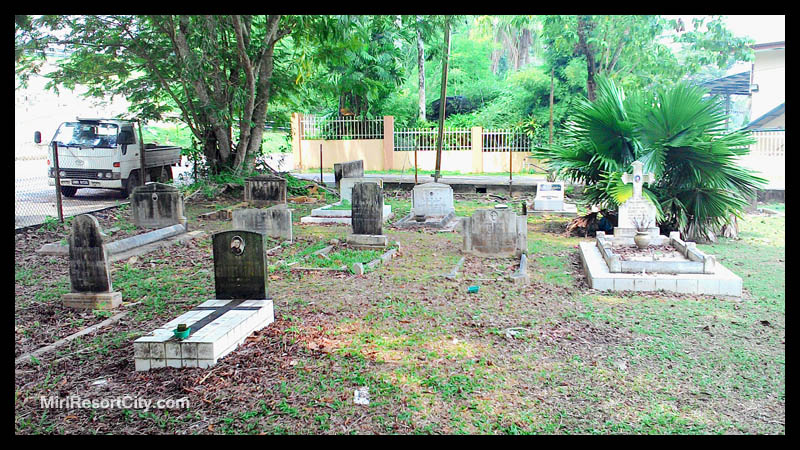 A small, neglected colonial era christian cemetery exists in between Gymkhana Club Miri and St. Columba's kindergarten and secondary school in the general vinicity of CenterPoint Phase II. The cemetery contains a mix of European ex-pats, Chinese & orang Asli graves, some are church dignitaries.
The disproportionate amount of young deaths of these graves depict an era when life expectancy was unpredictable, and the devastation of World War II. The fences around it and the general area are run down but some of the graves seem to have been upkept.
  


 
A particular large memorial there is a mass burial from World War II, the result of last minute executions by the Japanese as they retreated when Austrialian forces landed. The remains of over twenty civilian victims are buried in this location, their names commemorated on the memorial tomb (eventually refurnished with a plastic plaque in August 2015).
As of August 2015 - only just a few days after this article was written - this large memorial only just recently was planned to be renewed and renovated soon to be called World War II Memorial Park. The renewal and upgrade work is expected to cost RM160,000 and due for completion by October 2015. Golden Hill Memorial is to bear half of the project cost and maintenance is to be done by the Miri Council. Source
These may also interest you ▾