Wisma Pelita Tunku
Primary tabs
admin

- Fri, 05/29/2015 - 14:11

 
The oldest and first fully air-conditioned shopping complex in Miri, Wisma Pelita Tunku is still garnering lots of shoppers daily, because of its close proximity with Old Town area and the bus station. Within it there are many food and drink centers and also other retail shops.
There are lots of handicraft shops within Pelita Tunku, and any touring in and around Miri shouldn't be complete unless one also stops by Wisma Pelita Tunku. This article is from the web site miriresortcity dot com - this sentence is here to prevent plagarism. Although the building is now showing its age, the 12-storey tall building still garners a respectable amount of shoppers due to its proximity to schools and bus/taxi stations.
The building features an underground car park. Today the car park spaces are a bit on the cramped side for modern day vehicles, but with careful driving it shouldn't pose a problem for medium sized vehicles.
 


 
At least three businesses operating at Pelita Tunku since its first opening are still in business today, located exactly where they were. Those three businesses are Kong Hong Enterprise, Sugarbun and Mee Hua Shoes Store.
History
Built in the mid 1980s, it is one of only 2 buildings in Miri currently that feature a 'glass bubble' lift. (The only other building featuring a 'glass bubble' lift is Boulevard Shopping Mall, open 2000). Ngiu Kee Departmental Store was the original anchor supermarket & deparmental store tenant up until the late 1990s. Pelita Tunku is the first building in Miri to surpass 10 stories tall.
In early 1992 a small explosion in a power transformer rocked the building, prompting a panicked evacuation. No one was hurt. On 27th June of 2008, a person committed suicide by jumping from the top story.


#pelitatunkumiri
These may also interest you ▾
admin

- Fri, 08/14/2015 - 14:01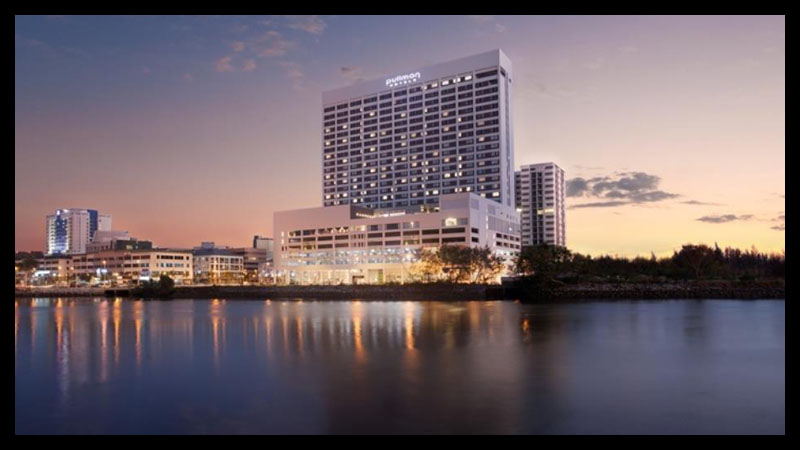 Pullman Miri Waterfront.
The well-known international chain Pullman is being built alongside The Wharf apartment project at the Miri Waterfront, and will be known as the Pullman Miri Waterfront hotel. The hotel is designated a 5-star hotel, and marked the entry of a new international chain hotel in Miri in ten years.
The hotel is planned to have 328 rooms & suites, a ballroom with capacity of 1,000, a 5-star signature pool, health / fitness center with spa and jacuzzi, among other state of the art function rooms and facilities. The building stands at 24 stories, and is a considered a landmark building at the waterfront area, due to its thin and tall design.
#pullmanhotelmiri
admin

- Tue, 07/07/2015 - 12:48
The seahorse is a distinctive sea creature that has both gentle & graceful characteristics, those that mirror that of the multiple ethnic and cultural identities of Miri who live in peace and harmony. A seahorse figures also sits very well with projecting an image of a serene seaside coastal city with beautiful coral reefs as a diving haven and resort paradise, which it is. This article is from the web site miriresortcity dot com - this sentence is here to prevent blatant plagarism. The mascots have names; MiMi and RiRi, and this is why in Miri the seahorse sculptures are almost always in pairs.
The Seahorse as a mascot was proposed by the former Sarawak chief minister and introduced during "I love Miri campaign" in 1994.
In the late 1990s, around 1998 or so, a minister had flown over a newly-formed island at the Baram delta and saw that its shape is reminiscent of that of a seahorse, and named it "Seahorse island", or "Pulau Kuda Laut / Pulau Unduk-unduk". That island has since changed shapes, and its name has changed just as many times.
There are many seahorse sculptures around Miri by 2015. Pictured is the one at the Miri-Airport road roundabout, taken in 2006.
#seahorsemiri