Luak Esplanade
Primary tabs
admin

- Fri, 05/29/2015 - 14:42
The Luak Esplanade is located at Luak, in the outskirt of Miri city, by the coastal highway. It's has a great beach front overseeing the South China Sea and is a great place for family outings and leisure enjoyment. With plenty of car parking space and a great beach front spanning kilometers, people gather here to enjoy the South China Sea scenery, face the sea breeze, have picnics in the afternoons, and in the evenings, people participate in car audio and various lively activities during the weekend.
Best time to visit are during the weekends, Saturday - Sundays, as usually there are food stalls set up along the stretch with a variety of local delights, snacks and drinks to try.
Tip: Locals have a tendency to mis-read / misspell it as "x-planet", or "xplanade". Pronounce it as such if the taxi driver or a local doesn't understand it.
To visit the Luak Esplanade:
Because it is located relatively far from the city, it is recommended that you have your own transport (rented cars) or call a taxi to get there. Be sure to get the taxi drivers' numbers so you can call them when it is time to get back.
In September and October of 2015, a flourish of bio-luminescent phytoplanktons along the beaches has caused the waves along the beach to glow a bright deep blue and caused many people to flock to Luak Esplanade and Tusan Beach to have a look at this amazing phenomenon.
#esplanademiri
These may also interest you ▾
admin

- Thu, 09/24/2015 - 10:32
Founded in 1986 as Rinwood Inn, the hotel had humbling beginnings as a two-lot shophouse converted into a comfortable living space to house foreign business clientele. In 2014, the hotel underwent extension renovations and redesign with a design theme featuring retro 1970s-era elements.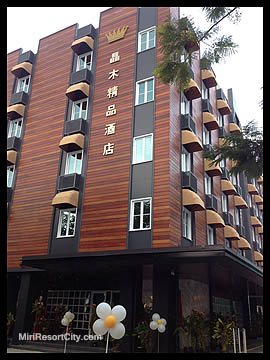 Kingwood Boutique Hotel is a distinctive hotel located alongside the famous corridor along North Yu Seng Road. Recently renovated and redesigned extensively to, the hotel reopened its doors on 23rd September 2015. It features 49 designer rooms, a lobby cafe and restaurant, with a rooftop bar that boasts a sprawling view of North Yu Seng Road and Miri.
Its design theme reflects vintage style-era sophistication with a modern twist - all guest rooms are outfitted with vintage 1970s era furniture retro designs. 5 types of guest rooms, studio-style, deluxe private rooms, suites & parlour areas and a Crown Loft to suit the different styles and budgets. All rooms come with complimentary wifi, morning paper, in-room safes, climate control and spa inspired bath amenities.
Major shopping malls, banks, convenience stores, bars and restaurants are within walking distance.
Web site: https://kingwoodmiri.com.my/
Kingwood Boutique Hotel (Miri) Sdn. Bhd. (147317-D)
Lot 826, Jalan Yu Seng Utara, P. O. Box 1838, 98008 Miri, Sarawak.
(+6) 085 415888
(+6) 085 320888
Enquiries: hello@kingwoodmiri.com.my
 
#kingwoodhotelmiri
admin

- Mon, 08/10/2015 - 11:30
Miri Marriott Resort & Spa is a 5-star seaside spa resort in Miri that is conveniently located in the popular Brighton Beach area, and is just a few minutes walk from Taman Selera and Tanjung Lobang. The building was previously known as Rihga Royal, built in 1992.
Featuring a complete list of amenities, guests will find their stay at the property a comfortable one. 24-hour room service, facilities for disabled guests, car park, room service, airport transfer are just some of the facilities on offer. Designed for comfort, selected guestrooms offer internet access – wireless, air conditioning, desk, mini bar, balcony/terrace to ensure a restful night. The hotel's peaceful atmosphere extends to its recreational facilities which include fitness center, sauna, outdoor pool, spa, massage.
#marriottmiri