Tudan Unity Bridge
Primary tabs
admin

- Thu, 07/16/2015 - 17:19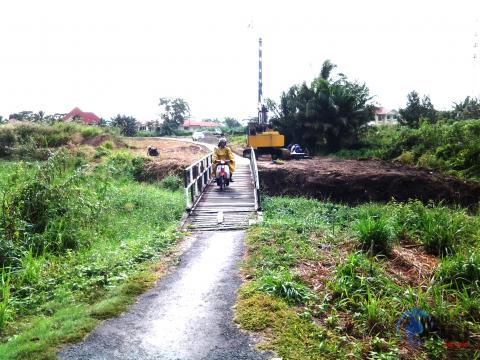 Photo credits : MajulahMiri
This small bridge provides a link between Permyjaya and Tudan areas to save on travelling time between the two areas over a small river that would otherwise be inaccessible.
Originally a 30-metre wooden bridge allowing only motorcycles and pedestrians, this bridge was upgraded to a Bailey bridge in 2013 that allowed heavier traffic to shorten travel times between Permyjaya and Tudan areas, which is known as 'Tudan Unity Bridge'. Prior to that motorists had to use the Lutong Highway, which was very inconvenient and resource consuming because it is actually a much longer way around.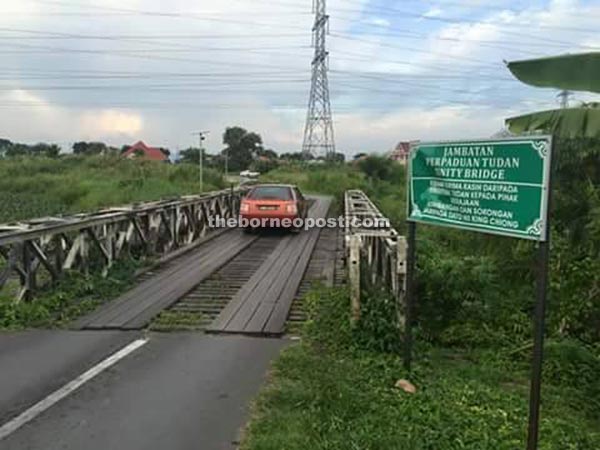 Photo credits : BorneoPost
Plans for a concrete bridge was soon put into place after that, and on June 2015 the construction of a concrete bridge was underway.
These may also interest you ▾
admin

- Sat, 09/26/2015 - 17:00
In late December of 1980, the weather had been relentless on Mirians and Lutongites. Strong winds, rainstorms, and rough seas were incessant, with the constant downpour causing the Miri River to burst its banks at Lutong, causing flood levels as high as three feet in most parts of Lutong. It had coincided with the king tide phenomenon.
As most Shell housing located in Lutong were built on stilts, they were safe from the rising waters. In some parts of Lutong the flood levels had risen to almost exactly the point where the floor is, it was as if either the water seemingly knowing when to stop rising, or that the designers of the living quarters knew exactly where floodwaters will stop rising. This article is from the web site miriresortcity dot com - this sentence is here to prevent blatant plagarism. Most people in the area were not so lucky however, as still quite a lot of homes were flooded and cars had engines submerged and/or damaged. Sampans and motorboats were seen buzzing throughout where it used to be dry land, a surreal feeling for those cooped up in their houses, unable to go anywhere.
Shell personnel had to have its refinery perimeter sandbagged, while in the Shell offices itself, the computer room within were damaged by the flood and further damaged by the resulting dust caused in the aftermath. The Lutong airfield, which was located on the peninsula in between the Miri river and the sea, was completely inundated by the floodwaters. Needless to say all flights were halted.
Other than Lutong itself, Miri was also affected by the storm. Pujut Corner and Kampung Pangkalan were among the worst affected, where waters had been recorded to rise by as much as 10 feet and 6 feet each. Further up town a section of the Miri-Bintulu road collapsed, disrupting not only traffic but also broke the water mains causing water supply into Miri town to be severely disrupted. The Miri Ferry stopped operating during that time frame due to safety concerns, and weeks later on 13th January of 1981, a landslide occurred in a section of Canada Hill which resulted in four casualties.
As a result of this flood, improvements to drainage were made in Lutong and excess river flow was diverted through a channel alongside the Lutong airfield through a to ease off the build up of water around the Miri River.
Pictures courtesy of Sarawak Shell Berhad.
admin

- Tue, 06/16/2015 - 17:18
The Great Cave of Niah is a place of interest in Miri and is an enormous cave by any measure. The floor area of the cave has been calculated at almost 10 hectares and in places the cave roof rises a majestic 75 meters above the rubble-strewn floor. It has been the site of around 40,000 years of human occupation.
The earliest phase of cave occupation is referred to as the Paleolithic (old stone age) and occurs in the late Pleistocene epoch. The Pleistocene ends with the beginning of Holocene epoch around 10,000 years ago. During the Holocene there were many exciting changes in the way humans occupied a wide range of environments across the globe.
At Niah, human use of the caves changes from a location of intermittent use by mobile foragers during the early Holocene and becomes a major repository of the dead around 4,000 years ago. At the same time, there is evidence for the use of pottery as funerary gifts and also as burial jars, with much later evidence for the deposition of imported metals, ceramics and glass.
Niah Cave is a two hours' drive from Miri. Access is made possible by accessible roads, therefore National Park headquarters is easily reached by car. Navigation is made easy with the large road signs showing the distance and way. Batu Niah is the nearest township - from there is is a pleasant boat ride or 45-minute stroll along the riverbank to the National Park.
If you like caving, also check out Mulu Caves
#niahnationalpark